Perry's Lookdown to the Blue Gum Forest hike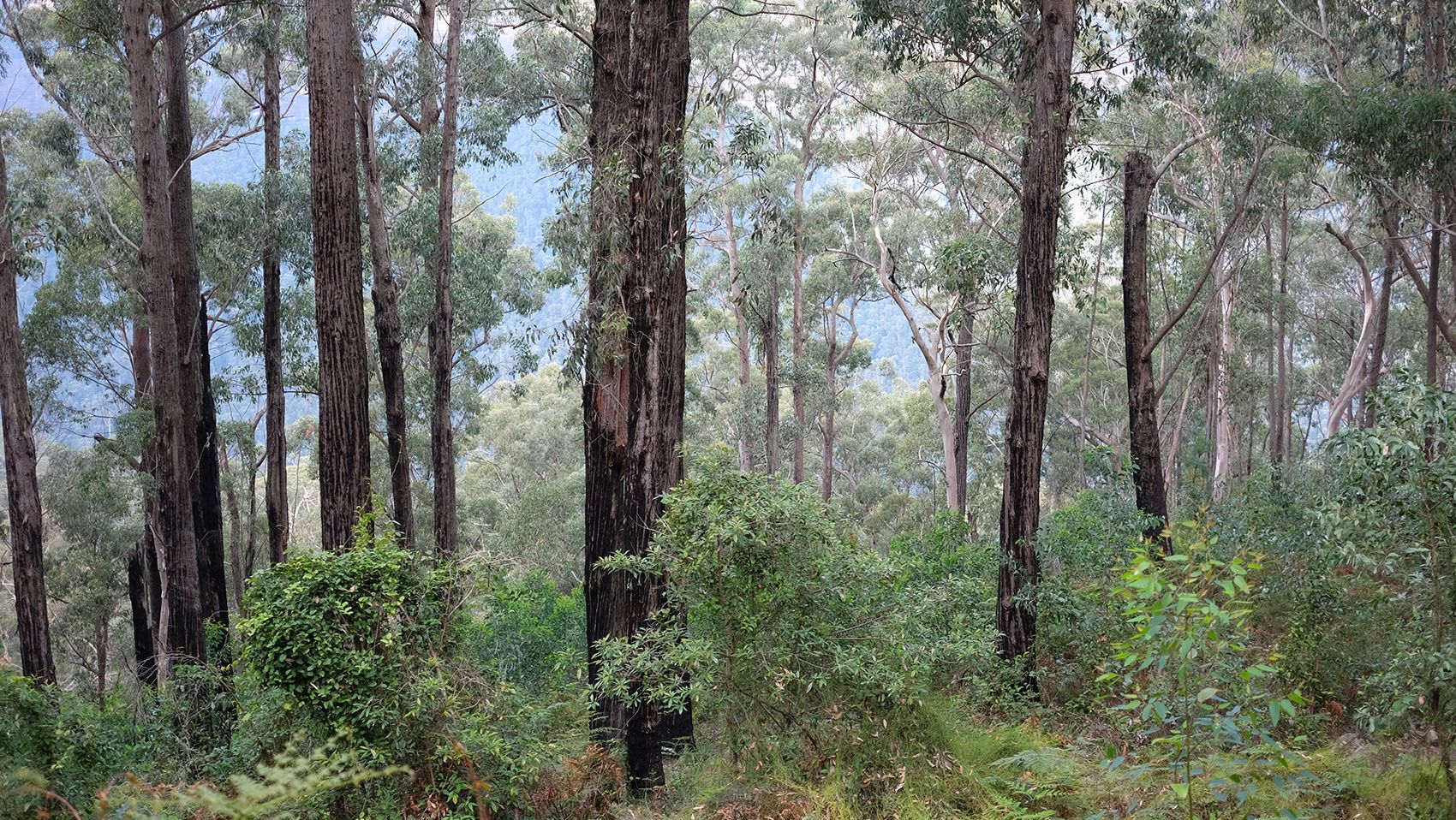 Difficulty
Fairly Challenging (8/10)
(So basically your quads and especially calves will be on fire. I recommend doing some stretching and exercises a couple of days prior)
Time
3 hours return at a steady pace of 2.5 minutes / 100 meters
Gear
Usual gym clothes will do, however I strongly recommend proper hiking shoes

Insect repellent

Water and snacks
Location
The Blue Gum Forest is a protected nature reserve located in the Grose Valley of the Blue Mountains. Roughly 2 hours away from Sydney. You will pass Katoomba, Wentworth Falls and head further north to Blackheath.
Hiking
The actual track leads you from the top of the Perry's Lookdown all the way to the gum forest. It is called a lookdown because when you look as far down as you can, that is where you are going.
The elderly couple enjoying the view at the top haven't missed the chance to tell us that they also did it once back in the days and barely survived the intensity. At which stage you should feel confident and reassured to start the adventure.
About 1% of hike is flat, the remaining is ascent or descent of some sort. You'll find all sorts of steps, ones carved in the rock, wooden ones, and even ones that look like proper steps made of concrete with a handrail (only one though!). Basically, you'll never get bored of the ever-changing surface under your feet. That's what I really enjoyed about this track.
Once you finally reach the bottom, you'll see a map and a few signs pointing to different directions, indicating a camping ground and even longer tracks ahead. This is when you'll realise that you're surrounded by the huge Blue Gums! Which are actually a variety of Eucalyptus. It almost feels surreal standing in the midst of those gigantic trees equally distanced from each other and over 200 feet tall.
This forest is unlike anything else and you feel really small, like standing on top of a mountain, even though you're at the very bottom of it.
If you continue another 200 meters past the map, there will be another cool spot - the Govetts Creek. A complete change of scenery again and less mosquitoes than inside the forest. We walked on top of the fallen tree and then just sat down for a well deserved snack.
Return
That's where the fun begins! Well, I actually found the hike back up not as challenging as going down, purely because stepping up is easier on your calves and joints.
Make sure you allow plenty of time before it gets dark if you're hiking in the second part of the day.
Enjoy!