Cisco Unity - Failed to record name issue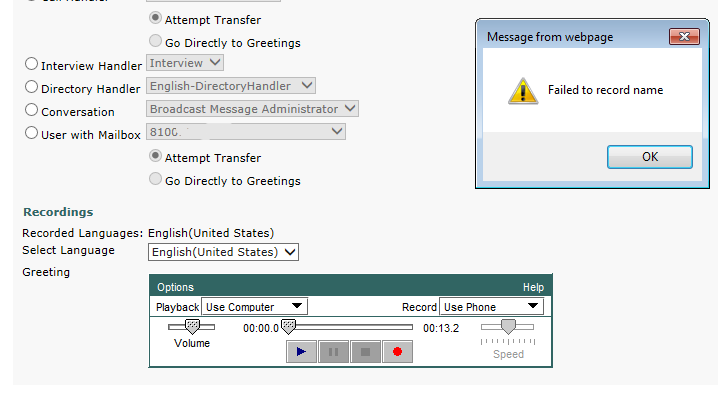 Problem
When you try to upload a WAV voice prompt file in Cisco Unity Connection call handlers using Media Master Applet, you get an error saying "Failed to record name".
Pre-requisites (i.e. never hurts to have these in place)
Update Java to the latest version
Add your Unity address to the safe sites in Control Panel > Java > Security
Add your Unity address to the Internet Explorer safe sites
Add your Unity address to the Internet Explorer compatibility sites
Solution 1
Login to Cisco Unity Connection and go to the affected call handler
Select the greeting (Standard / Closed) you want to apply the WAV to
Click on Play/Record Options > Open File > choose the WAV file and click on open
Click Playback > Select "Use Phone" from the menu and click Play
Enter your IP Phone number or any random number (it doesn't matter if Unity fails to play the greeting, it will process the file anyway)
Click on Save and check for a message at the top saying "Greeting Updated"
Click on Play/Record again and verify if the greeting has been successfully imported
Solution 2
If the steps in Solution 1 still result in the same error, you can try getting rid of the iframe and uploading the WAV file directly to the call handler subpage.
Navigate to the Greeting page of the affected call handler
Right-click anywhere on the page and click Properties to view the URL address of the iframe
Copy the URL of the iframe and paste into the address bar
You will see the Greeting subpage will load without the menu on the right
Try performing the steps in Solution 1 again
Solution 3
Try downgrading to JRE version 7. You might need to find a third party website hosting obselte versions of JRE. 7u17 has worked in my case.
Hope this helps!